The Porcelanosa Group is one of the leading and most relevant companies in its sector, representing the best in contemporary design. They have a long history of producing ceramic tiles and kitchen and bathroom products including furniture, accessories, and building solutions for contemporary architecture, but our most valued asset is their commitment to providing outstanding products and services. We believe these are at the core of what they do.
In line with its sustainable development policy, Porcelanosa has created a new brand dedicated to this commitment. GREEN IS LIFE is a new group of products that combines the innovations and experience of Porcelanosa's best designers, who have created cutting-edge collections that make earth-friendly design accessible to all.
Porcelanosa is a part of the Decorative Paints Sector at Porcelanosa Group and offers a wide product range including tile, kitchen and bathroom, hardwood, mosaics, natural stone, and countertop surfaces. Porcelanosa's products aim to be an inspiration and reference point for architects, designers, real estate developers, and professionals. Designed to be used for all types of projects – residential, public, or contract – their materials create comfortable modern functional spaces.
Porcelanosa Collections
Par-ker Collection: The Par-ker ceramic parquet is the result of Porcelanosa's aesthetic and technical quest to turn wood into ceramics. Its structure is made from recycled materials and its aesthetic blends the warmth of wood with the durability of ceramics. Its durability in the face of adverse weather and its low maintenance and low porosity make it perfect for installation in wet areas such as bathrooms, kitchens, or outdoor environments such as swimming pools. Nanotechnology has provided anti-slip options for the pieces of this collection, which in turn help their colors and finishes resist heat transfer due to solar radiation. Par-ker ceramic parquet can be included in any interior design project because of the richness of its colors and the gracefulness inherent to all its collections.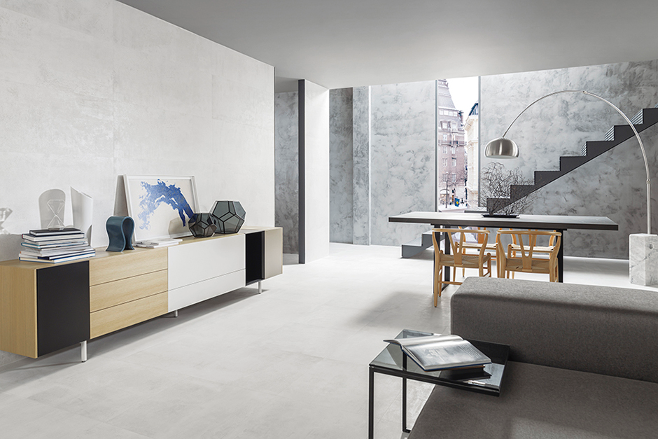 Ston-ker Collection: The Ston-ker ceramic stone is a practical, modern, and easy-to-install surface that can be used in kitchens, bathrooms, and other areas of the home. Thanks to its anti-slip features, this is an ideal option for all surfaces where there is movement or items are likely to be dropped. Its innovative design and durability make it perfect for use in high-traffic areas such as kitchens and bathrooms, while its waterproof properties mean you can count on a long life span with no worries about spills or dirt. Make your home the destination of your loved ones and guests – a place where you can enjoy the beauty of nature and the joy of family life. With these trendy surfaces, you can do it easily, without limits. You can add character to your home with furniture from this collection or create an elegant boudoir in which to relax with friends over a glass of wine after a long day at work.
Duna Collection: Duna is a new concept of bathroom furniture based on simplicity and the blending of materials in an innovative and attractive way. The main structure consists of a canal-shaped aluminum sheet with a granite basin that fits into the interior gap of the curved sheet. A matching aluminum mirror is available as an accessory, with built-in lighting and a shelf for hanging and placing everyday items close to the basin. Perfect for those who like to make a statement, the Duna collection brings together minimalism, chromatic contrast, and contemporary elegance. Its unmatched versatility allows you to create unique combinations according to your personal style.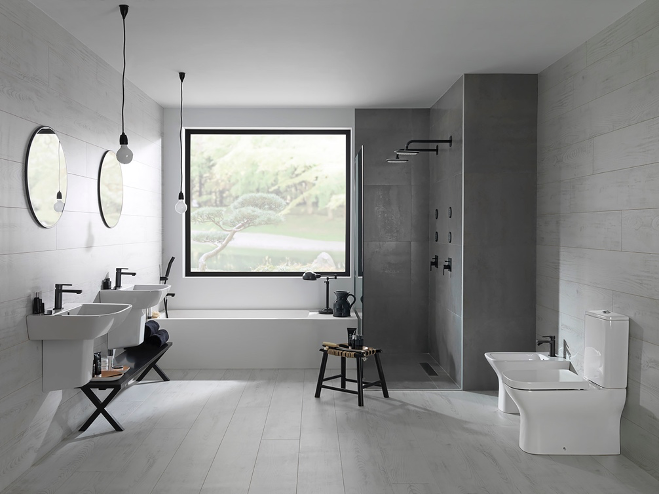 Urban C Collection:  Taking design cues from the most creative cities, Urban C is a new collection of bathroom accessories. Refreshing and unconventional, these pieces feature a contemporary linear look which makes them easily adaptable to a variety of settings. The timeless yet modern appeal of Porcelanosa's finest works of art inspired the design process that resulted in these exclusive accessories. Your bathroom is a sanctuary, and your Porcelanosa accessories are the perfect companion for your sink and bath. With the beautiful Urban C Collection from Porcelanosa, you can design the perfect bathroom that reflects your own unique style: from sleek and minimalist to luxurious and opulent, there's something here for everyone. Porcelanosa Urban C Collection bathroom accessories are the perfect choice for professional bathrooms and for those who appreciate good taste.
Stop by our showroom today and we can help you pick the best Porcelanosa Collection to fit your design needs in your home.