Everyone dream of a luxury bathroom in their home. The bathroom is the place where you can get away from it all. The bathroom is not just a place for us to freshen up but also to relax and unwind after a long hard day at work. We spend so much time in our bathrooms that we should make them as relaxing as possible.
With proper planning and with the right products, you can create a high-end bathroom look on a budget. The design of the room should be pleasing to the eye as well as functional. There are several ways this can be accomplished. Choosing the right bathroom furniture, basins, mirrors, faucets, and the right tile flooring can bring elegance to your new bathroom. Planning your new remodel for your bathroom can help the construction go faster and easier so your household is not without a functioning bathroom.
Vanity Upgrades:
Bathroom vanities are a great way to add style and function to your bathroom. However, with so many different styles and sizes to choose from, it can be difficult to determine which option is the best fit for your home. There are so many things to consider when choosing the best organization based on the design of your bathroom if you are on a budget. One option is to refinish a bathroom vanity. If you want to bring an old, outdated vanity back to life, refinishing it will be your best bet. There are many ways to do this and all of them are fairly easy and affordable.
Refinishing a bathroom vanity is an affordable way to give your bathroom a new look. You can choose from a variety of colors and styles, or even get something custom-made for your space. Using furniture such as dressers, unique cabinets, or under-the-sink shelving can be used if you are looking for a new look for your bathroom. Another option is to reface your existing vanity. There are many different types of materials available, from wood and laminate to granite and marble. Also, a fresh coat of paint with your favorite color can bring life to your old vanity.
You can also add new hardware by adding new ones or changing your vanity altogether. New knobs and pulls are one of the easiest ways to revitalize a space. There are a variety of finishes and styles to choose from. International Bath & Tile carries a large variety of decorative hardware and unique sink basins. We can help you pick the hardware to go with your décor or that vanity to best fit your taste and storage needs.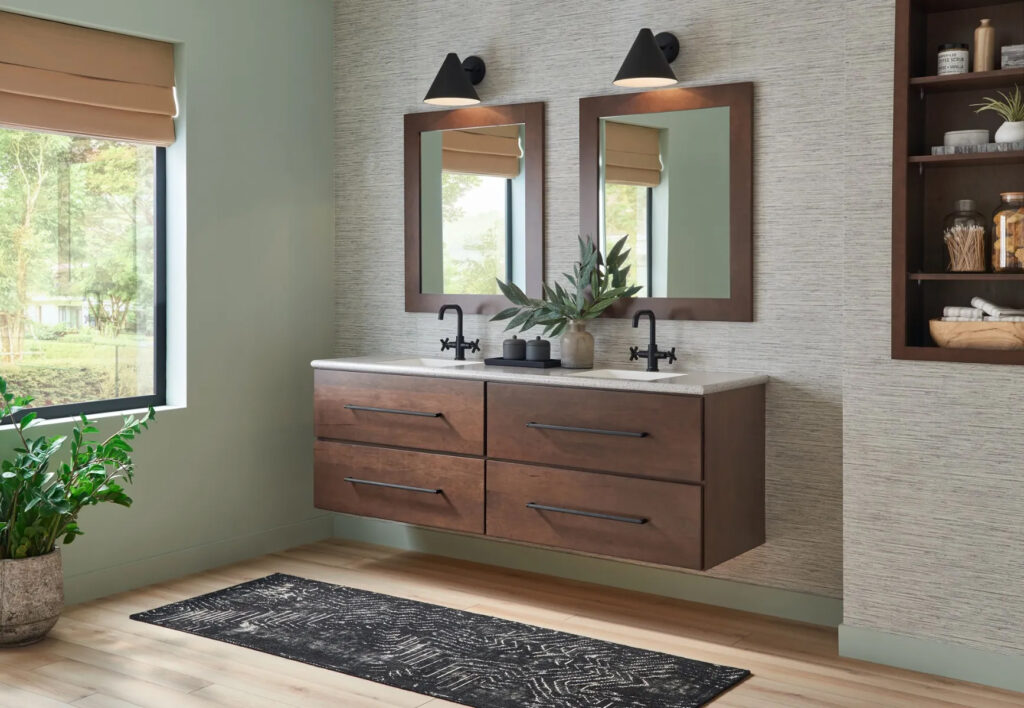 Statement Mirrors
When it comes to choosing the right mirror for your bathroom, there are many factors to consider. First and foremost, if you are looking for a decorative piece to enhance the look of your bathroom, you will want a mirror with a frame that matches the decor style of your room. If you are looking for something more functional, such as a medicine cabinet mirror or a full-length mirror, then style may not be as important, but functionality certainly is.
At International Bath & Tile, we carry a full array of bathroom mirrors for your bathroom needs. Our selection includes frameless mirrors in dozens of styles and colors. We also carry framed bathroom mirrors with several different frame sizes and finishes to choose from. We also offer frameless glass medicine cabinets with LED lighting that can be added directly into the frame of the mirror itself!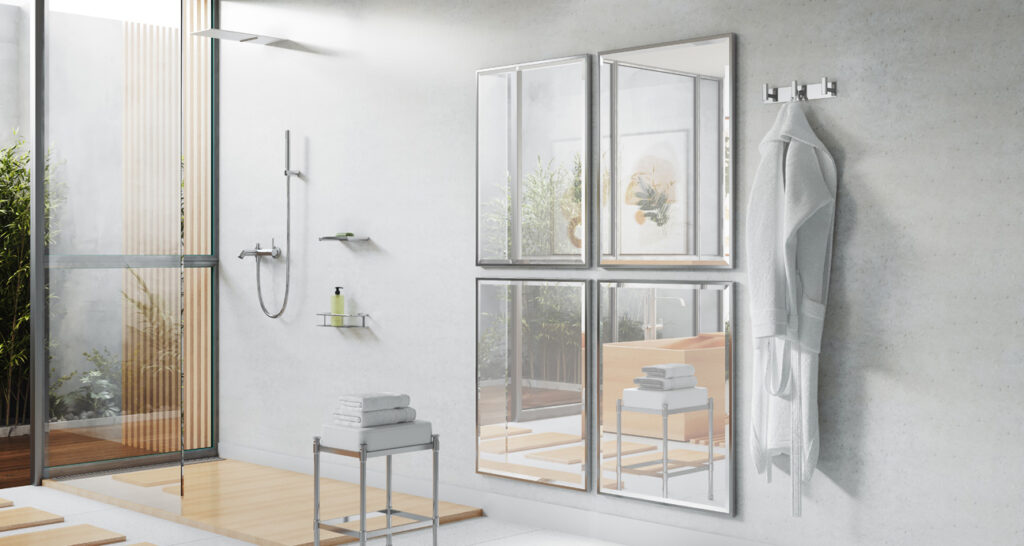 Elegant Fixtures and Faucets
Bathroom faucets are an important part of your bathroom's overall look and functionality. If your bathroom faucets are old and outdated, it's time to upgrade them. Leaky faucets are one of the most common plumbing issues experienced. A leaky faucet can cause water damage, rusting, mold growth, and increase your monthly utility bill due to excess water waste. Over time your bathroom fixtures can lose their luster, falling victim to rust and other blemishes. If your bathroom faucets look old, worn, or dirty, it is time to upgrade them. For instance, you can upgrade your bathroom's outdated fixtures with new faucets that consist of brushed nickel or matte black finishes to give your bathroom a modern clean look. Upgrading the bathroom fixtures is an easy and cost-effective way to renovate and enhance its aesthetic while integrating new fixtures for a more updated and appealing look.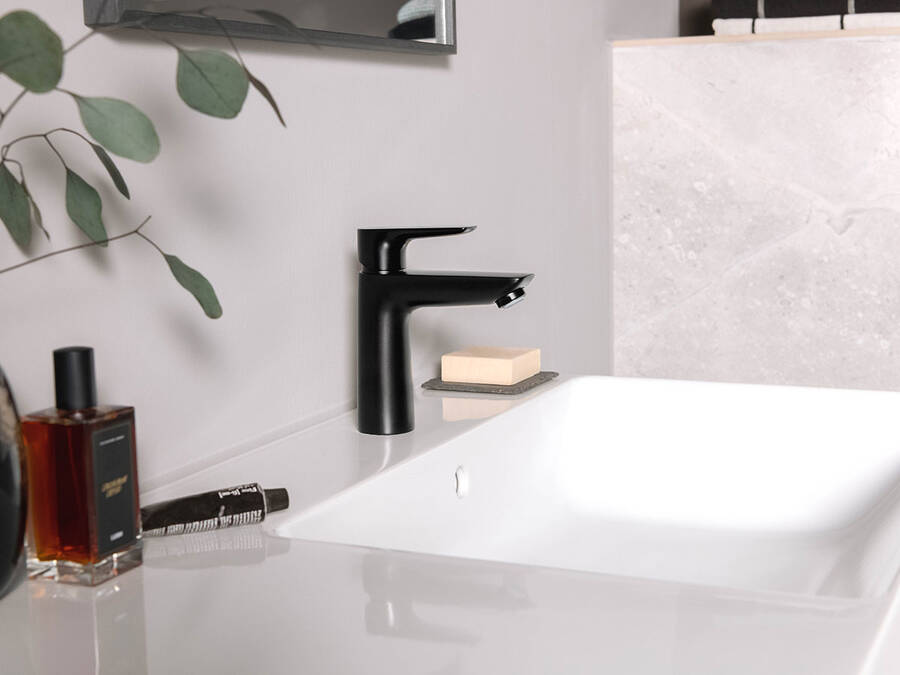 Tile and Flooring Choices
Tile makes for great floors, especially in the bathroom. They are strong, wear-resistant, resistant to mold and mildew, and they are relatively easy to keep clean. Tiles are also great for your bathroom because they are cost-effective for counters, walls, and flooring. Certain tiles have slip-resistant surfaces are incredibly resilient, and are made with long-lasting materials.
People are getting back to nature, looking for artisanship and craftsmanship in the tiles they want to incorporate into their bathrooms. They not only want something to stand out and be unique, but they want a cost-effective look like natural stone. An option would be porcelain or ceramic tiles. When choosing tile for your bathroom a wood feature can create a warm feel. However, you would never want to use wood material in damp areas. At International Bath and Tile we have amazingly beautiful porcelain and ceramic tiles that have a wood look. Faux wood tile is ceramic or porcelain tile that imitates the natural textures of wood. It not only has a higher resistance to water but also comes in a variety of patterns that can match any bathroom décor.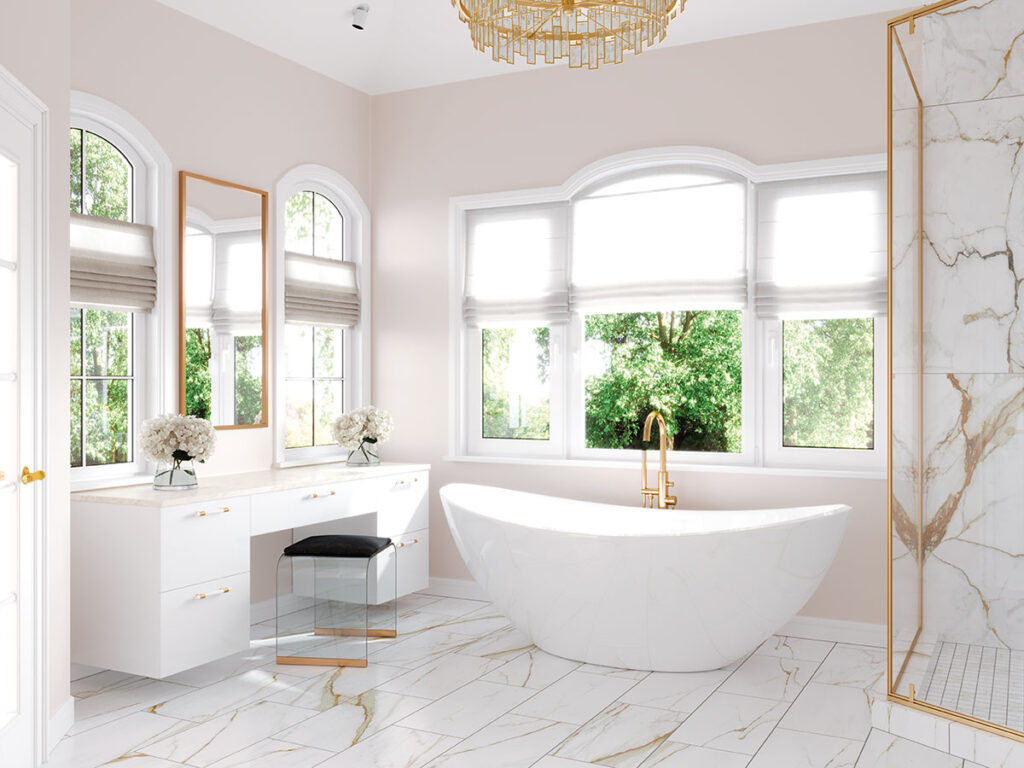 Renovating your bathroom to get a clean and updated look can be obtained with great planning and can also be cost-effective. You will be amazed at the bathroom fixtures, basins, mirrors, and tiles that International Bath and Tile has to help make your bathroom renovation easy and within your budget. A glamorous bathroom is obtainable! Just contact us today!