The bathroom is one of the most important rooms in a home for you, your family, and your guests. Therefore, it is very important to make the most out of this room and make it as comfortable as possible. One way to do so is to make your bathroom eco-friendly. There are many ways you can achieve this goal and each step will help you save money and preserve our earth at the same time.
With a few easy steps and updates, you can turn your old and outdated bathroom into a new and environmentally green one. There are many ideas and products you can add to your bathroom to make it an eco-friendly part of your home. The fundamentals of turning your bathroom eco-friendly by managing water flow and choosing long-lasting natural materials. In return, you will dramatically reduce water, reduce the chance of mold and mildew, and do your part in preserving our environment.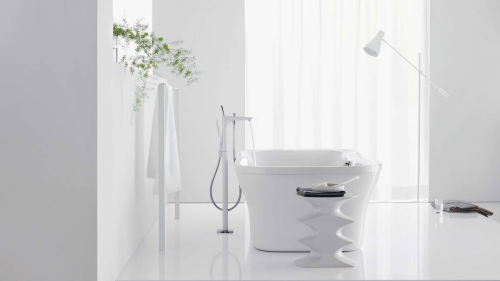 In today's times, we need to be constantly conscience of saving water. Making small but effective efforts to limit water waste is essential like turning off faucets when not in use, and fixing leaky faucets is a great start. Using bathroom fixtures such as waterless urinals, sensor faucets, and tankless water heaters are great water-saving strategies as well.
Upgrading to low-flow bathroom fixtures is an easy and effective way to reduce and save on water usage. You can go eco-friendly and save water by replacing old faucets, showers, and toilets with products from International Bath and Tile. We offer certified faucets, showers, and toilets that pose exceptional water savings without sacrificing performance.
There are many products that are not only eco-friendly but also economically affordable. The less water that is used in a home will mean less money you need to spend. These products also will be better for the environment. Using a two-level flush system for your toilet can assist with reducing water waste. The dual flush uses one for liquid waste, using less than a gallon, and one for solid waste. By just replacing your old faucet with a new energy-performing faucet, such as a sensor faucet, your household can lower its water usage by 500 gallons a year. For your shower, by simply changing your showerhead to a low-flow fixture, you will diminish the amount of water that is used, without losing a great shower experience. Low-flow showerheads offer many distinctive qualities such as flow-adjusting dials as well as pause buttons.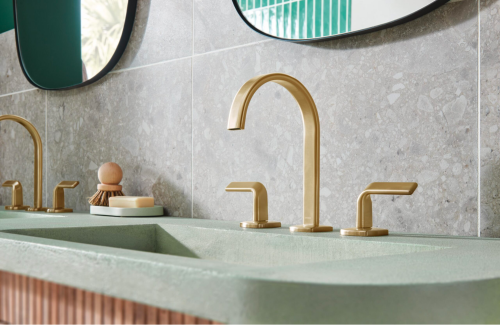 Another great way to bring eco-friendly products to your bathroom is with the right flooring material. Incorporate nature into your bathroom with natural tile products.  At International Bath and Tile, we carry tile in cork, coconut, recycled leather, hardwood, marble, limestone, and other high-quality natural stones. Also, for your bathroom countertops and flooring, consider using recycled glass.  Glass tiles are handy, not only on floors, but also for walls, and countertops too. Many of the glass tiles available to homeowners are made from recycled bottles, jars, and other discarded materials. This means they are a great "green" option! Glass tiles are eco-friendly to the environment and can bring elegance to your bathroom with their many colors!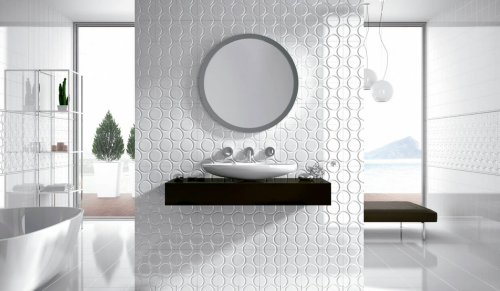 Cutting down on water usage and using recycled materials is a great way to accomplish your goal of having an eco-friendly bathroom. Even if you are remodeling or building your bathroom in a newly built home, it is an exciting and rewarding project. You can integrate the many options of water-saving products and materials that can be safe for the environment. Every small step will lead you to a more sustainable lifestyle.