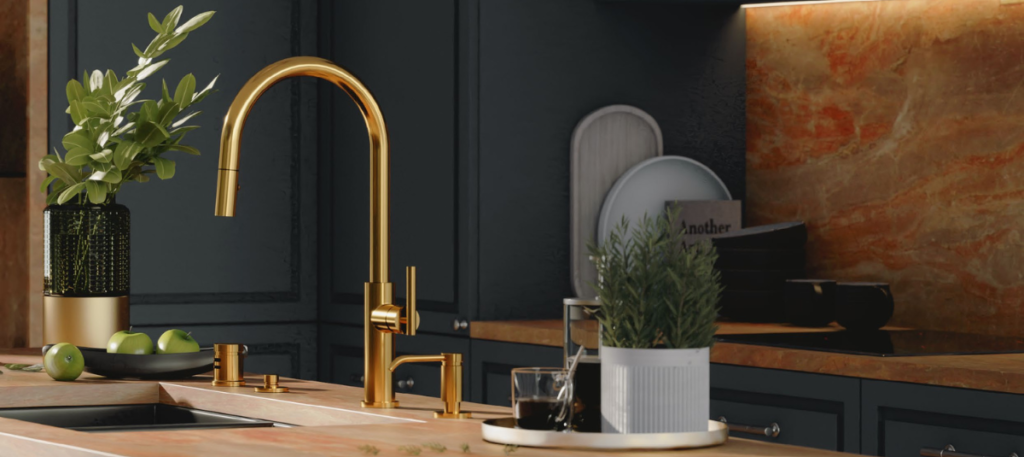 GRAFF is one of the world's oldest and most respected manufacturers of high-end plumbing products. Headquartered in Milwaukee, Wisconsin, USA, with locations throughout Europe, GRAFF is globally recognized for its trend-setting products and unique vision. Supported since 1922 by extensive plumbing and hardware manufacturing experience, GRAFF has positioned itself at the forefront of design creating designer-based collections for the luxury market. Utilizing the latest manufacturing technology and thanks to a tradition of old-world craftsmanship, GRAFF's commitment to creating cutting-edge, premium-quality collections is evident in each and every product.
GRAFF's heritage dates back to 1851 when Joseph Graff founded his first manufacturing company on the banks of Lake Michigan in Milwaukee. Since then, four generations of Graff family members have guided the business through five major expansions into new product lines: plumbing fixtures in 1922; bath accessories in 1943; faucets in 1960; lighting fixtures in 1972; and kitchen sinks & faucets in 1992. In addition to its U.S.-based manufacturing facilities and headquarters, GRAFF also has production facilities in Germany and France as well as sales offices throughout the world.
GRAFF is a family-owned and operated business that has been making luxury kitchens for over 35 years. Their mission is to provide customers with the world's most beautiful and functional kitchens. They create kitchen suites that are truly unique to each homeowner's tastes and style. Each suite is designed by a team of architects and interior designers, who work closely together to find the perfect combination of appliances, cabinetry, and hardware.
The Art of The Kitchen
GRAFF's artisans craft every piece of hardware by hand using only the finest materials available. With over 35 years of experience in the kitchen industry, they know what it takes to create a true masterpiece that will last for generations. GRAFF is excited to announce their new Chef's Pro and Cosmopolitan Pull-down Kitchen Spray Heads, Futurismo and Segovia Kitchen Collections, and Expanded Kitchen Suites!
With this comes Two New Product Categories GRAFF has unveiled two spray heads equipped with dual-function aerated stream and spray, each designed with its own distinctive qualities. The Cosmopolitan Edition and The Chef's Pro Edition.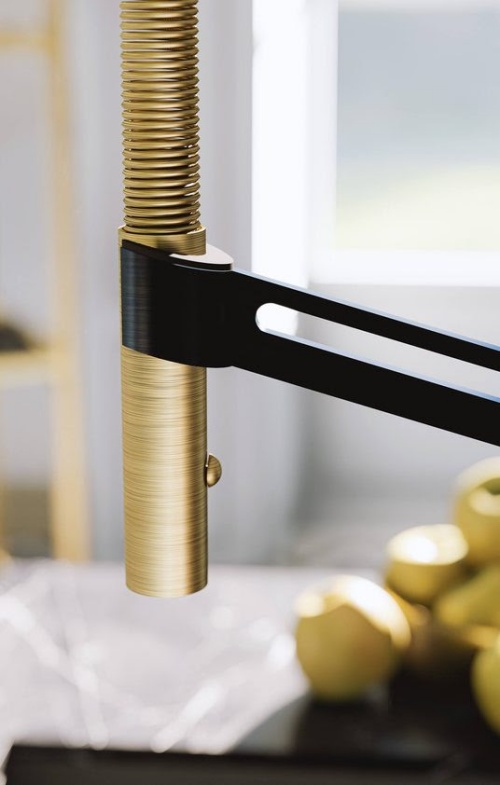 The Cosmopolitan Edition is a sleek, modern spray head that has a large and powerful spray pattern. It has an adjustable flow rate so you can customize your water pressure to the task at hand. You can even adjust it while you are in the shower or tub – no tools are required! This makes it perfect for rinsing dishes or clothing, as well as bathing.
The Chef's Pro Edition is an upgraded version of our original Dual-Function Spray that allows you to switch between aerated stream and spray at the touch of a button. It was designed based on feedback from professional chefs who love using the original but want more control over their water pressure when cooking at high heat temperatures.
GRAFF also is excited to announce Graff's latest collections: Segovia, inspired by the Roman aqueduct of Segovia, Spain, and Futurismo, inspired by architectural futurism.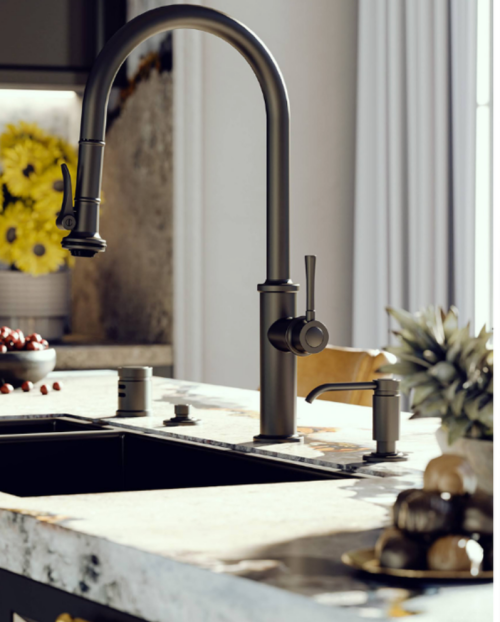 Segovia Collection
Segovia is a timeless kitchen collection designed to delight connoisseurs, featuring classical details inspired by the enduring design of the famed Roman aqueduct of Segovia, Spain. The Segovia Collection is available in luxurious finishes including dual-tone and includes pull-out sprayers with magnetic locking.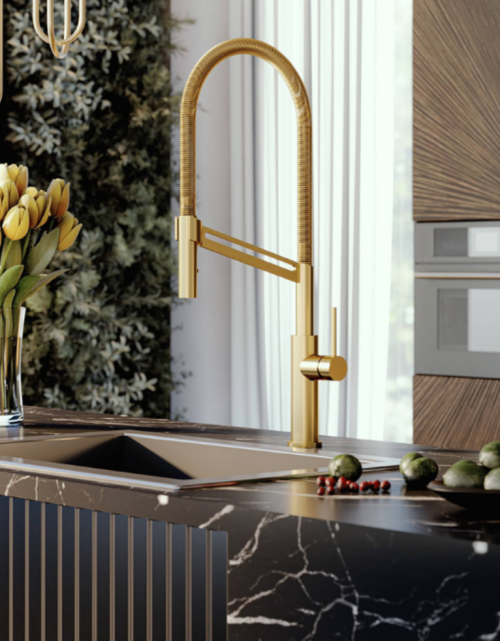 Futurismo Collection
Futurismo, inspired by architectural futurism, is a modern collection that pairs natural shapes with captivating, high-performing designs. Crafted with precision engineering and the highest-quality materials, Futurismo features include pull-out sprayers with magnetic locking and a coil featuring the same finish as the faucet.
Stop by our showroom and International Bath and Tile and we can show you the amazing products that GRAFF has to offer for your kitchen and your bathroom!