One of the best features of your house can be your swimming pool. In the summer your living space is expanded to your outdoor living space, patios, decks, and pools. As with any renovation or remodeling project, or a new pool build, you need to plan, shop, and execute. The shopping and execution will be a breeze with International Bath & Tile. The most obvious first step is to replace the existing tile, if it is old, cracked, and outdated.
Let's talk about what tiles you can use during a complete pool build or a pool renovation. International Bath & Tile can supply you with the best selection of pool tiles for your pool plans. Our selection of tiles offers you many color choices along with different textures and styles. Additionally, our options will meet all your pool requirements for waterlines, backsplashes, and pool floor applications.
One of the most important aspects of tiles around a pool is to make sure it is not only beautiful but also slip-resistant.
Tile Options
Glass Tiles: Glass pool tiles can surely be an eye-catching and beautiful element in a swimming pool. These tiles can be included in any of your outdoor water projects such as your waterfalls, ornamental pool, or for your family pool. Many pool owners love the look of glass tiles. With its sparkling finish, to the many different options of size, color, and design selections. All of these are made possible with high-quality pool tiles that International Bath & Tile can offer you.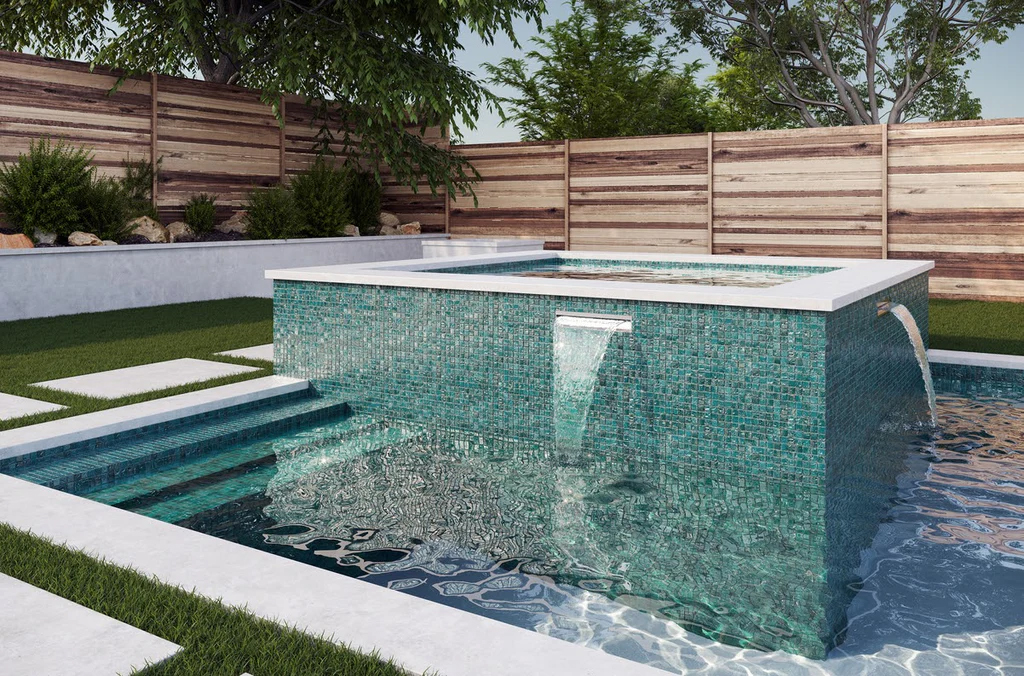 In their new 2023 Spring Collection is Island Stone's Lava Glass Essentials. These brilliantly made mosaic tiles are iridescent, with a wavy surface that plays with light when in water. Island Stones Lava Glass mosaics have a brilliant pattern that brings dark and light tones across the whole mosaic tile. You can choose from a broad variety of colors which can allow you to create an alluring space that combines light and shadows and textures. The Lava Glass Collection replicates Island Stone's pledge to design tiles that are at the top of the line for wetscapes. Lava Glass Essential pool tiles with new blends that expand their current Lava color palette to 9 breathtaking colors.
Porcelain Tiles: When incorporating porcelain tiles for your pool build, you are making use of the most impervious material that will make your pool last for years to come. Porcelain tiles will withstand the elements for outdoors such as humidity, water, temperature changes, and frost. The material in porcelain tiles in the pool and its surrounding area will also give you a slip-free surface, and they are easy to clean, fade-resistant, and easy to maintain.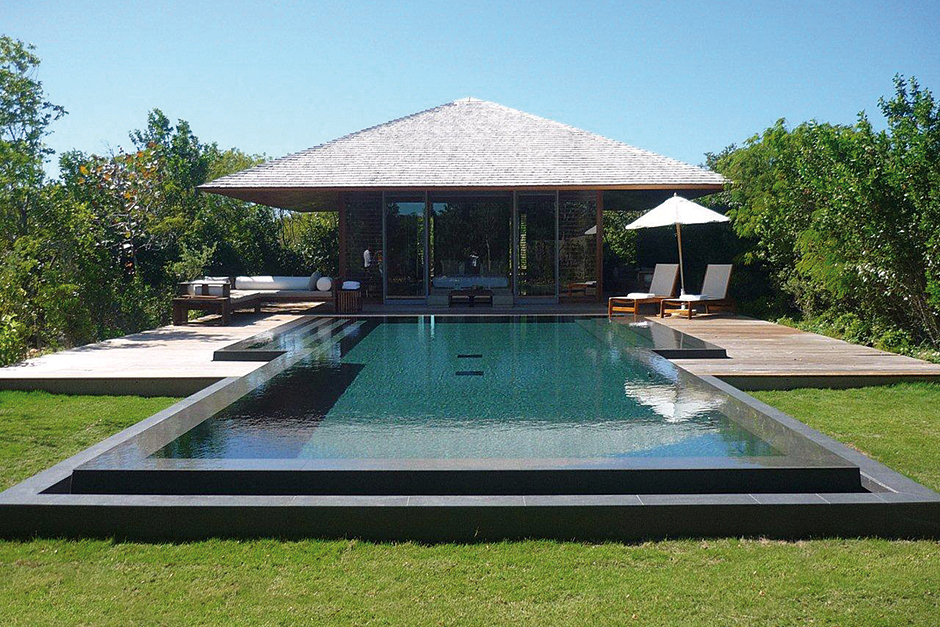 When using tile in an outdoor installation project such as a swimming pool or a patio area, safety should be of the utmost importance. Porcelanosa offers a variety of anti-slip selection fitting for wet areas for your outdoor space. One option is Porcelanosa's Avenue Black Textured Tiles. These tiles are textured with a 7/16″ thickness giving you the durability and safety needed for any pool area.
Mosaic Tiles: Mosaics are an art form. They can be found all over the world and date back thousands of years. They were used as decoration in buildings, on floors, walls, and even in pools. Mosaics add a beautiful, fun, and creative feature to your pool. Mosaic tiles can give a pool a stunning look because of their intricate design and colors of your choice, or to just add a simple pattern. Due to their many variations, you can give any pool a pop of color. Mosaic tiles come in many shapes and sizes, so you can really customize your pool any way you want.
Jeffrey Court's Stack Brick Blend Mosaic in their Mo'orea Collection is a handcrafted mosaic tile and a great choice for your pool. The tile's design consists of a neatly stacked brick pattern, letting the array of finishes give the tile movement and dimension. These hand-poured glass mosaics contain small imperfections natural to handmade glass that give the tile a unique charm.
Natural Stone Tiles: Pool owners have a wide variety of options when it comes to selecting the right stone for around the pool. Natural Stone Tiles is one such option that has a lot of benefits. There are many benefits to building your pool with natural stone tiles. Durable natural stones provide a long-lasting flooring solution for swimming pools. If you are looking for an investment-worthy product, then it is important that you choose a natural stone that would last for many years without requiring any maintenance or repair work. There are many types of natural stones available in the market that can be used for swimming pool floors. These include travertine, granite, limestone, and slate among others. Natural stones not only provide a long-term solution for your pool area due to their hardness, but they also add a native and natural look to your pool area.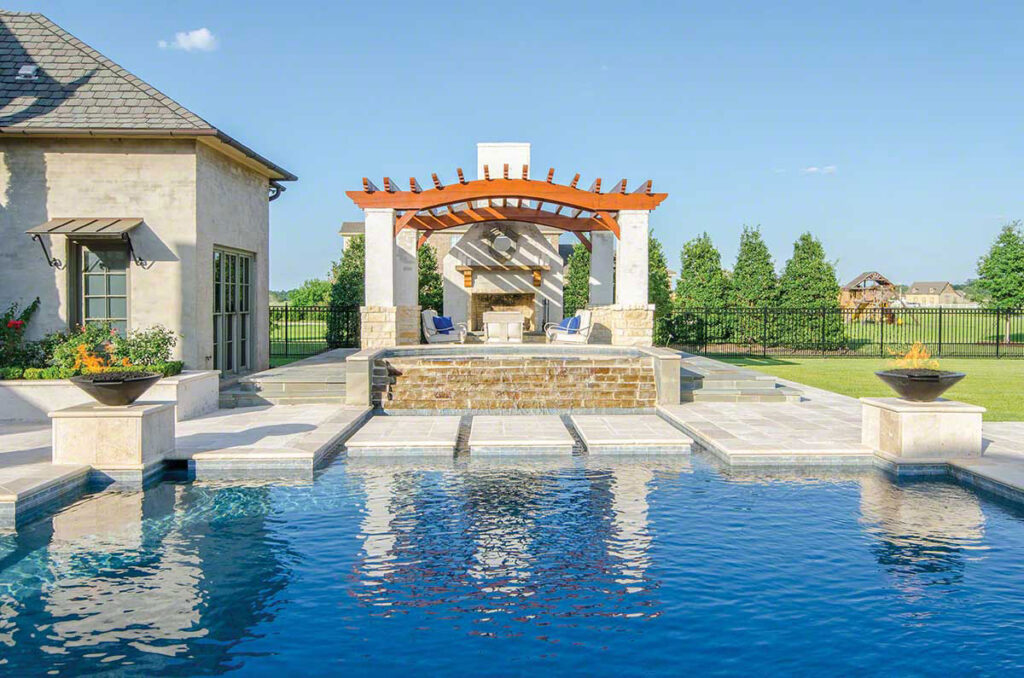 One great option tile to bring out the natural look of stone is MSI's Tuscany Beige Pool Coping. They are designed from natural travertine and bring out soft beiges and creams. These natural stones bull nose finish connects to make a smooth edge to grab while in the pool.
The variety of pool tiles at International Bath & Tile complements a wide array of glass, porcelain, mosaic, and natural stone materials to create an inviting outdoor space. Each type of tile will bring beauty and durability to your pool and outdoor area for many years giving your family and friends a refreshing and safe place to enjoy. Contact us today and we will help you pick the best tile for your needs as well as your design taste.