The stunning nature of Bali, Indonesia, beckoned the founders of Island Stone to its rugged shores in the 1990s. It was there that they created the first mesh-mounted pebble tile and built a company that continues to design and engineer the best tile to be used by architects, designers, and homeowners around the world. This is the story of how a group of friends created an iconic product and built a global tile company founded on an adventure, fueled by respect, smart work, and a relentless spirit. Their passion for innovation and design fuels the best products you can find in your home or for your project.
Island Stone designs, sources, and manufactures its products in a process that it calls "by hand" to create the most innovative, quality tile available. Each piece of tile is hand-placed and verified by their experts at each step of the production process so you can be assured you're getting the best quality. The highest quality stone tiles are hand-selected, selected, and installed by their expert craftsmen. Island Stone never uses tiles that don't live up to their standards so you can be guaranteed a long-lasting, beautiful finish.
Explore Island Stone's New Wide Range of Modern, Seamless, and Classic Tile.
Cascade Collection:
Create a custom wall installation or backsplash with Island Stone's water-patterned glass tiles in their Cascade Collection. The unique textured finish creates a dynamic alternative to matte- or gloss-finish glass tile, offering a compelling visual that's modern and fresh. This pattern is ideal for creating a retreat-like vibe on shower walls, kitchen backsplashes, interior and exterior accent walls, and more.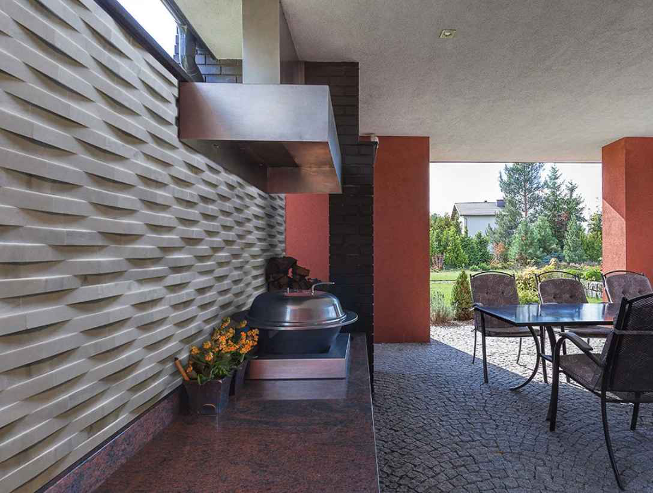 Evolution Collection:
Upgrade your home with the Age of Stone. Island Stone's newest collection of natural stone ledger additions. They are a selection of groundbreaking patterns that make up the new Evolution Collection. Also included in this launch is a highly sought-after pattern with three marbles. All patterns are offered in precision-built ledger panels and precut corners that were designed for a seamless finished appearance while dramatically reducing the complexity of installation.
Glass Essentials:
Island Stone's Glass Essentials is a linear back-painted subway tile that is available in nine elegant tones and two finishes. These beautiful tiles are highly durable, versatile, and perfect for both indoor and outdoor applications. This linear back-painted subway tile is the ideal solution for any area where you want the clean lines and durability of glass but with a subtle touch of warmth. A perfect addition to any bathroom, or backsplash, these tiles are sure to create the right style for your home.
Lava Glass Collection:
Add a touch of the exotic to your home or commercial space with Island Stone's Lava Glass Essentials. Featuring an iridescent, undulating surface that plays with light in water, these tiles are ideal for pools, showers, water, and water-adjacent applications. Black painted with durable color at over 1,025 degrees Fahrenheit, each piece is a brilliant combination of dark and light tones across the whole mosaic. A wide range of colors allows you to create an inviting environment that incorporates light and shadow as well as textures. Transport your pool or shower to a watery wonderland with our Lava Glass mosaics. Whether you want to give your tub a modern facelift or create a colorful focal point for your outdoor space, these tiles will make your interior designs shine.
Nomad Collection:
When it comes to design and style, ceramic tile is a versatile medium that allows them to bring their Island Stone aesthetic into the home environment. Nomad brings our courageous aesthetics into this versatile medium, allowing us to offer our modern interpretation of naturally occurring elements. Island Stone's journey to bring Ceramic into their company's offering was guided by a vision of capturing a unique Island Stone aesthetic with distinctive tiles that work flawlessly with their natural stone and glass offerings. With a unique look and tactile quality that complements traditional spaces, Nomad also works well in modern settings.
Stop by our showroom at International Bath and Tile and we can help you pick the Island Stone Collection that would look great in your home or commercial space.