Time-honored and contemporary combined together in a way that effortlessly joins together into every type of living space. Waterstone is a customer favorite and always earns the title of our most searched extravagant kitchen faucet brand!
International Bath and Tile carry an amazing range of products, Waterstone Faucets are all made here in the United States and continues to create products for bathrooms and kitchens that resonance with luxury and elegance.
Since 1999, Waterstone has mastered the task of merging art and technology. They have created the designs everyone loves. They are leaders in the ability to make them strong enough to be worthy of a lifetime of use in your kitchen. Waterstone has pride in manufacturing its products right here in the USA! Operating their factory right here in Southern California for many years!
Waterstone's Wheel Faucet!
If you are looking for a truly one-of-a-kind kitchen faucet, The Wheel Pull Down Kitchen Faucet is the one for your kitchen. The Wheel's groundbreaking design is inspired by the wheel of a ship and the brave spirit of American ingenuity. The Wheel's pulley spray design is built with the value and workmanship you would expect from an American-created kitchen faucet.
The Shipyard Inspired Gantry Pulldown Faucet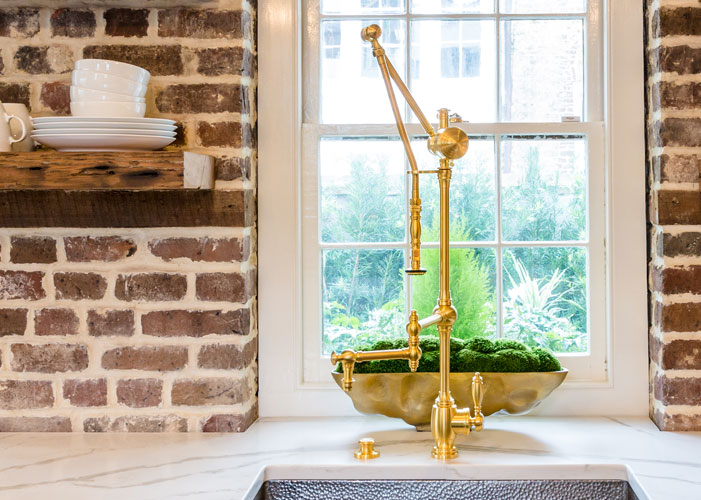 The Waterstone Gantry's patented design found its motivation from the enormous Gantry cranes in the Los Angeles Harbor. These Gantry cranes do the hefty lifting when it comes to unloading cargo from ships. Their Gantry Pulldown Faucet is developed after the size and strength of these cranes. With Waterstone's ability to bring out the resourcefulness and creativity with their environment, it made perfect sense to mimic a gigantic piece of shipyard machinery and design something magnificent.
International Bath and Tile has developed a great partnership with Waterstone, a true American-made company. They are very passionate and proud about every product they produce. In today's world, they are unique in that they are a privately owned family business. Contact us today for more details!