Brizo's founders set out to create exceptional products that would change how consumers think about faucets and other fixtures in their homes. They wanted to provide innovative solutions that would make life easier—and more stylish—for everyone.
Brizo's mission has always been to transform the bathroom into an intimate space where you can relax while staying connected with your family and friends through technology such as Bluetooth capabilities found in some of our faucets. Brizo wants to help you become more efficient, so you have more time for yourself without sacrificing style or comfort!
Brizo is a luxury bathroom, kitchen fixture, and shower brand that hosts fashion designer Jason Wu. He has created a collection for the company, inspired by midcentury design, which evokes his style ethos on the runway. Brizo's concept is that luxury is beyond the clothes you wear—it is an entire lifestyle, and their company seeks to bring luxurious design to your home. They have a wide variety of interesting faucets that they insist are more like "works of art", and their shower systems look very luxurious.
Brizo also has an impressive line of sinks as well as accessories including towel bars and toilet paper holders. The company is based in California but has expanded into Canada and Europe as well.
Brizo's New Additions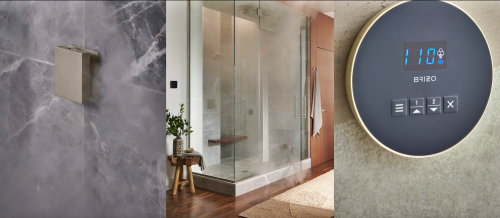 For the shower, Brizo's Mystix Steam System is the pinnacle of luxury. It combines the uncompromising comfort of the Mystix Steam Generator with a wide range of finishes to suit any aesthetic. The Mystix Steam Generator is the heart of your steam shower. It's engineered to deliver the ultimate shower experience—a cascade that invigorates your senses or calms your mind.
Craft a holistic ambiance with the Mystic Transcendent Experience—combining all the benefits of the Elemental Experience with the SensoriPlus Digital Interface with up to twelve presets. Plus our full suite of spa options: Mystix Aromatherapy, Chromatherapy, and Audiotherapy. Brizo's new shower releases offer everything you need to realize it.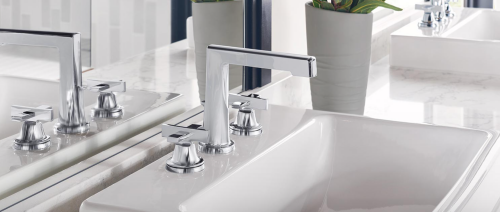 For the bathroom, Brizo has two new collections. The Invari Bath Collection marks a new reign of Edwardian grace, softened by smooth Machine Age appreciation. Each beautiful touch conveys an enlightened time-honored character bringing the past to life.
The Levoir Bath Collection by Brizo brings an innovative elegance to every line of sight. Its lustrous curves are charming to the eye. The Brilliance Polished Nickel finish generates new warmth to this collection, while the Brilliance Black Onyx finish heightens the allure of this collection.
Stop down to International Bath and Tiles showroom so we can shop for you the many elegant collections by Brizo we have to offer to you and your home.