Rubinet Faucet Company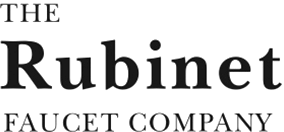 Every faucet from Rubinet is produced from brass, hand polished, textured and finished using state of the art technology for timeless beauty and durability. The quarter turn washer less ceramic disk mechanisms promise to deliver smooth long-lasting performance. All of these features are backed by the industry's most comprehensive lifetime warranty on function and finish.
Quality Designs Backed by a Lifetime Guarantee
Rubinet has been committed to providing an extensive selection of quality faucets and accessories to suit their customers' needs and design motifs, since 1982. Its products are pledged against poor workmanship and factory defects.