Miroir Brot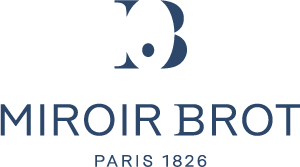 Created in 1826 by François Brot, mirror maker to King Charles X, the brand Miroir Brot belongs to history. 100% French manufacturing and unparalleled quality of achievement, Miroir Brot by the heritage of its collections is quickly establishing itself as a world reference beauty mirror and decorative mirror creator.
Reinventing the mirror
Collections that meet the needs and desires, with style and technicality, and the innovative will that has marked its history. Miroir Brot interrogates and reinvents the use of the Mirror every day.