Jeffrey Court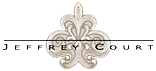 Jeffrey Court was founded with a clear goal: to bring cutting-edge products made with passion and innovative design to your spaces. The formula for their lasting legacy and current industry leadership is based on three solid principles that have guided us throughout the years. Timeless and fashion-forward design, constant product improvement, and dedication to their partners' success. With this as their foundation, they have become leaders in the industry by smartly combining different decorative elements, having a keen eye for inspired design, and a wide assortment of in-stock decorative tiles.
Innovative & Passionate Mosaic Tiles
Create an impression with Jeffrey Court's exclusive mosaics and field tiles. One-of-a-kind collections thoughtfully balance unique materials, textures, and shapes that work together to make a statement.