AlysEdwards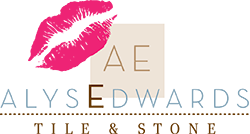 AlysEdwards Tile & Stone has been committed to curating collections to use as the foundation for the designs for your living spaces. AlysEdwards uses these collections together to create a beautiful space that reflects your life, personality, and style. AlysEdwards believes in ready-made artisan tile for everyone, quality, and hard work to create your favorite space.
Inspire, Create, Design Something Fabulous
Since 2008, AlysEdwards has been committed to curating collections of building blocks that can harmoniously be used together or on their own. Allowing for designing within a variety of needs ranging from the minimalist to the extravagant.