Ann Sacks is a luxury tile and stone company based in Los Angeles, California. Founded by Ann Sacks, the company has been creating unique and stunning designs for over 30 years, working with some of the most prestigious architects, designers, and homeowners in the world. The brand's signature collection of tiles has been developed for a wide range of interior settings – from modern interiors to historic homes – and features an array of elegant designs with a strong sense of color and texture.
Ann Sacks Kelly Wearstler
A deep affinity for engaging textures and dimensional surfaces is the signature of Kelly Wearstler's work and her evolution of tile and stone designs in a collaborative partnership with Ann Sacks. Wearstler interprets her iconic graphic motifs and anomalous, organic expressions in ceramic, encaustic, stone mosaic, and marble through the indelible precision, high craftsmanship, and quality intrinsic to Ann Sacks.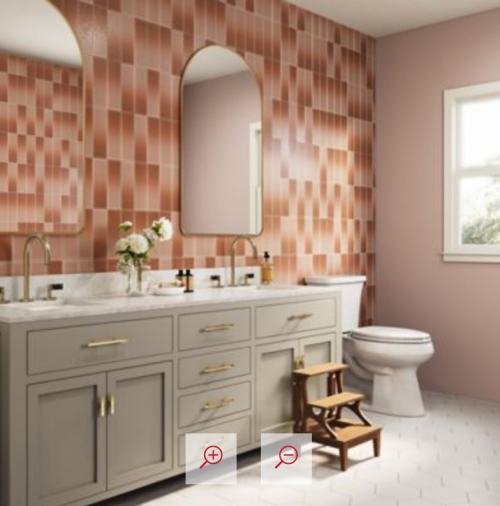 The Fade Collection
A spectrum of artisanal glazes is showcased in Fade, a new stoneware collection by Ann Sack's Kelly Wearstler. Handmade in our Portland, Oregon factory, Fade exemplifies Wearstler's enduring exploration into what is possible in ceramic art. Utilizing a skilled layering technique when applying the glazes and firing at high temperatures, the result is an enchanting ombre effect. Available in six distinct glaze gradients applied to a 3"x9" or 9"x9" field allows for a combination of various graphic patterns when installed.
The collection is available in six distinct glaze gradients: Blackened White, Blue Slate (Glazed Edge), Cobalt Fog (Glazed Edge), Deep Ocean, Forest Moss (Glazed Edge), and Midnight Shadow (Glazed Edge). Each color has been hand-blended with a unique palette for unsurpassed color depth and richness; each piece features subtle variations that make each tile unique.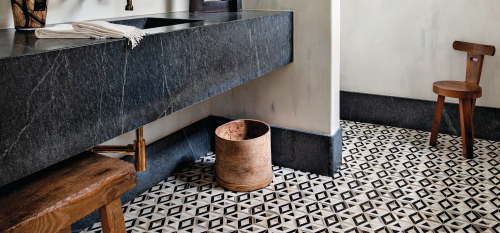 The Liaison Collection
Ann Sacks's Liaison collection is inspired by the juxtaposition of contemporary form and timeless materials. The collection features playful marble textural patterns in a range of shades and finishes that reflect the artist's distinctive aesthetic. The collection includes a variety of pieces, including round tables, console tables, and side tables.
"The visual texture and timeless beauty of marble draw me to natural stone time and time again," said Kelly Wearstler. "With the Liaison collection, I'm inspired by the way that marble can be manipulated to create unique combinations of color and texture."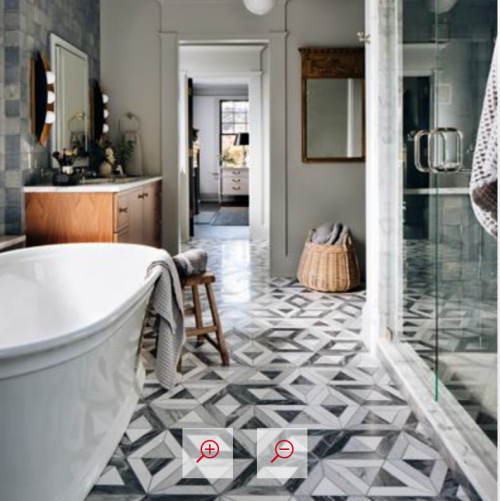 The Tuxedo Check
Tuxedo Check by Ann Sacks is a natural stone that comes from the quarries of Brazil, China, and India. The rich and varied stones offered in Tuxedo Check with their natural colorations and veining, offer the perfect medium to create canvases of visually striking and boldly distinctive stone designs to be interpreted in virtually limitless ways.
The variety of sizes, shapes, and colors make this collection ideal for flooring, wall cladding, countertops, vanities, and fireplaces. The look of Tuxedo Check is unique; it has a distinct pattern with an irregular surface that gives the appearance of being handcrafted. The stone has a highly polished finish that highlights its natural characteristics while still allowing it to be easily installed as flooring or wall cladding.
Stop by International Bath and Tiles and we will inspire you with these beautiful collections of designer and decorative tiles by Ann Sacks!